Online gaming tech giant Playtech (LON:PTEC) has released its financial and operating results for the first half of 2021, which included some interesting information regarding its for-sale Financials division Finalto. Finalto includes the group's B2B institutional FX business (formerly Alpha Capital Markets and CFH Group), and the Markets.com Retail FX and CFDs brand.
First, regarding the ongoing saga of the sale of Finalto… Playtech said that the sale process of the Finalto business is "ongoing", and that it remains in discussions with Gopher regarding potential sale of Finalto. Playtech had come to an agreement earlier this year to sell Finalto to a consortium led by Israeli businessman Zvika Barinboim for $210 million, but that deal was torpedoed by a late but higher offer made by Hong Kong investment banker Jonathan Bond's TT Bond Partners (via investment vehicle Gopher Investments). The higher offer by Gopher led to a majority of Playtech shareholders rejecting the Barinboim offer in a mid-August vote, and since then Playtech has been in discussions with Gopher trying to close a deal.
Playtech added in its latest release that discussions with Gopher remain ongoing and, while the company is pleased with the considerable progress made to date on what has been a very concentrated timetable, there can still be no certainty that any transaction will be forthcoming.
Regarding Finalto's results for the first half of 2021, Playtech noted that while Finalto had an outstanding H1-2020 where the business significantly benefitted from increased market volatility and trading volumes at the outset of the COVID-19 pandemic, market conditions "normalized" in H1-2021 – meaning significantly reduced activity at Finalto. In terms of performance, revenues decreased by 63% YoY to €31.9 million (H1 2020: €87.3 million) and were down 8% as compared to the second half of 2020 at €34.6 million. Adjusted and reported EBITDA both decreased to a loss of €0.1 million (H1 2020: profit of €52.8 million) and €0.5 million (H1 2020: profit of €46.3 million) respectively.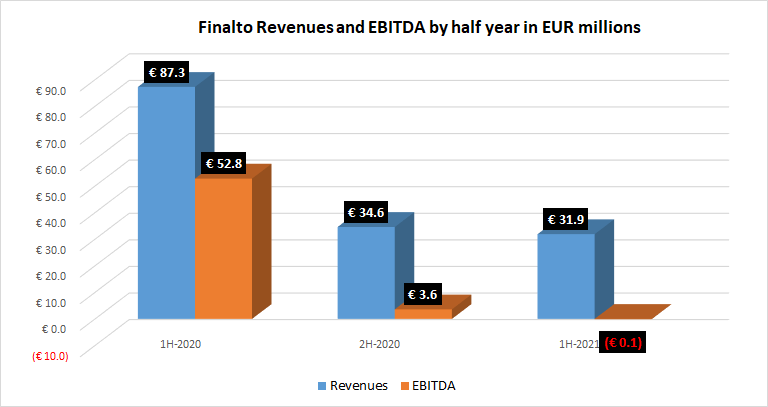 Playtech's full 1H 2021 report release can be seen here.