Ocean Markets is a broker that claims to have a 13-year history on the European markets while actually having no legal documentation to show for it. It also states that it has partnered with HSBC (a British bank, the second largest bank in Europe) which is a blatant lie as Ocean Markets is an offshore broker with very few credentials and questionable terms. This is not a reliable broker for more than one reason – find out more in the following review.
Ocean Markets REGULATION AND SAFETY OF FUNDS
As we just mentioned, Ocean Markets is an offshore broker situated on the Marshall Islands. Here is their Certificate of Incorporation: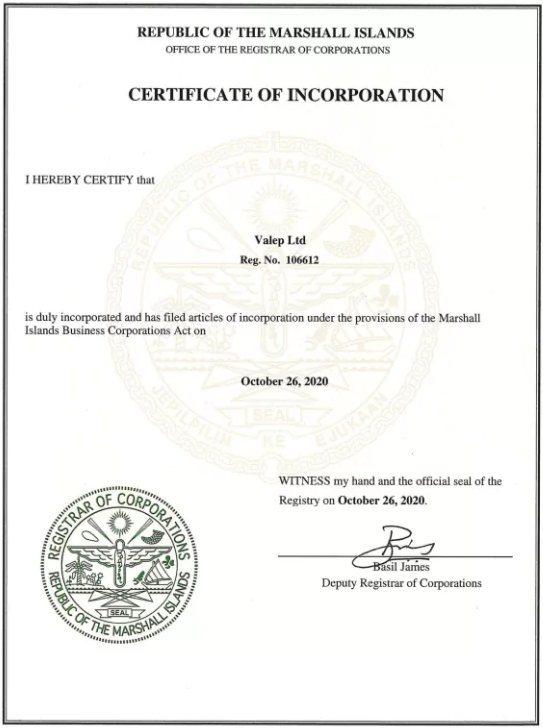 This is not a great starting point. Especially for a company that claims to have a 13-years history in Europe. The company has only recently been registered on the Marshall Islands as you can see from the document above (October 26, 2020). The Marshall Islands themselves are a location adored by scammers for their lack of regulation. Basically, anyone can register a company there without having a local office or even having gone to the Islands.
The only remote connection Ocean Markets has with Europe is a UK phone number. But the FCA register which contains all UK-licensed brokers gave no results for Ocean Markets.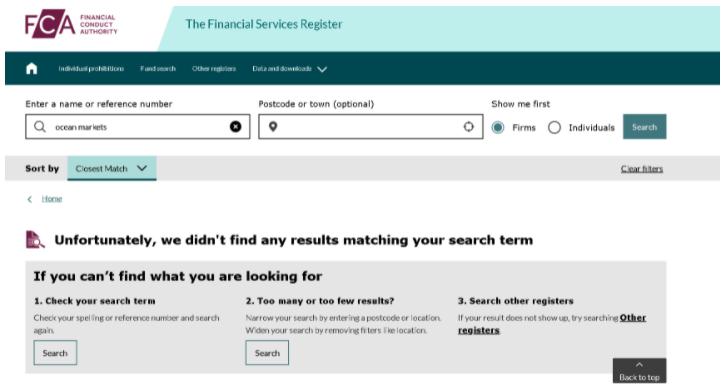 Of course, being an offshore broker does not necessarily make you a scammer but openly lying about your credentials does. Offshore locations impose very little or completely lack regulation. At the same time licensed brokers in the UK for example have to answer to a strict financial regulator – the FCA – and follow the many rules it imposes. All UK brokers have to keep client deposits in segregated accounts which means that after you deposit, the broker has very little access to your investment and cannot reinvest it as they please. In this way, you know exactly how your money is being handled and can get withdraw it fairly quickly. All UK brokers also participate in a compensation scheme that could cover losses inflicted by a broker's bankruptcy – you can claim up to £85 000 in such cases. This makes licensed brokers a much better option when you want to deposit any amount of money somewhere.
Ocean Markets TRADING SOFTWARE
Ocean Markets claims to use its own web trading platform called xCritical. As there was some problem with the website and we could not register an account at the time, we could not test that platform out.
For accounts with deposits above $60 000, Ocean Markets also offer MetaTrader 4 and MetaTrader 5 – the most popular software in the industry. We would strongly suggest looking up brokers using those platforms as they are preferred for a reason. For one thing, they are more expensive than web platforms which means that the broker was willing to invest in good software. But the biggest advantage MT offers is simply a lot of functions and trading tools – from a market with a variety of trading apps to Expert Advisors.
Ocean Markets TRADING CONDITIONS
Ocean Markets offers six different types of accounts with deposits starting from $500. This is a bit too much when most regulated brokers would usually open an account for anywhere between $10 and $100 but rarely ask for more than $250.
The spreads Ocean Markets offer start from 2.5 pips for the Starter account which is a lot higher than the industry standard of 1.5 pip and would turn out to be highly unprofitable.
The leverage of 1:200 which Ocean Markets offers is also a bit too high considering the permitted leverage in the UK is 1:30. You should beware of such high leverage when you are new to trading – you can indeed earn money fast but with such great trading potential comes the risk of losing a lot of money
Interestingly enough, Ocean Markets offers buying vaccine company stocks as a trading instrument. How legit that is, we cannot know.
Ocean Markets DEPOSIT/WITHDRAWAL METHODS AND FEES
In the Terms and Conditions, there are mentions of some interesting fees – a hefty 5% fee for 90 days of inactivity and a 5% withdrawal fee you will be charged if you choose to withdraw before making 5 trades.

While we were looking at the account information, another disturbing feature manifested – the company offers a few types of bonuses. Bonuses are strictly off-limits for regulated brokers and no legit broker will offer such if they would like to keep their license. There were a few clauses in the terms and conditions that additionally confirmed what we already know – Ocean Markets is only here to take your money.

You are supposed to reach a massive trading volume if you want to get access to any money made on account of the bonus. Considering the starting bonus is 40% if you invest $5000, the bonus would be $2000. This means you have to reach a turnover of $20 000 000 if you want to see any money which is completely insane. They also mention that "Should the Client choose to withdraw money prior to reaching the required trading volume, all the opened positions on the Client's account will be closed and the remaining money cleared…".
You can deposit and withdraw money via Visa/MasterCard, Neteller, Skrill and МИР (a Russian payment system offered by few brokers). The minimum withdrawal amount is $50 but we would strongly advise against investing any money with those scammers in the first place.
HOW DOES THE SCAM WORK?
Such scams work in a simple but effective way. You see a banner or an ad on the Internet and get redirected to the scammer's website where you get all sorts of promises for earning money the fast and easy way. You get led on by fake license numbers, satisfied customer testimonials and grand words. So you provide your contact details – an email and a phone number.
The moment this happens, the first wave of scammers come into play. You get bombarded with phone calls and emails asking you for a deposit. So you send that deposit and with time, you might start to see that you are turning a profit and wonder if you should invest bigger sums. This is in fact a deliberate trick because the scammers are trying to milk you as much as possible before you figure out something is not quite right.
The problem emerges when you try to get access to your money. The scammers might come up with different reasons why that cannot happen like making up more and more additional taxes. They might claim you cannot draw money because of some clause in their Terms and Conditions which is why you should always read those carefully and know what you are agreeing to. Finally, they might ask you to verify your account by sending them your picture next to a personal document or proof of address – something legitimate brokers also do as soon as you open an account with them. But in case you are dealing with fraud, this is done just so they can prove that you are indeed their client. In this way, they can claim that you have invested all your money voluntarily and make it impossible for you to demand a chargeback later on.
WHAT TO DO IF SCAMMED?
You should contact your bank or credit/debit card provider right away and ask for assistance. If you have used a credit/debit card to deposit, you could file for chargeback within 540 days. In case you were using a cryptocurrency, there is virtually no way to get your money back. If you have given scammers access to your computer or your banking details, you should make sure to change any passwords right away. You can also contact authorities and try to inform as many people as possible about the scheme you fell victim to.
Finally, you should never trust any companies that promise you a quick way to get your money back. Such "recovery agents" might ask you for a fee to retrieve your investment and run off as soon as they have received that fee. Often enough, they are the same people that scammed you in the first place.