TradingView introduces a new tool – Idea.
Thousands of users post trading ideas on the TradingView platform every day to share their thoughts and opinions on the global markets, showcase their analytical methods and strategies, offer training materials to other members of the community, or even show off their artistic skills.
The new tool, like a tweet, lets you add ideas that interest you right onto the chart, so that they are always at hand.
There are two ways to add an idea to a chart:
Select the "Idea" tool in the left panel, then paste the link to the idea in the window that opens.
Copy the idea link and paste it into the TradingView chart using "Ctrl + V" on Windows or "⌘V" on Mac. Or just click "Paste" in the context menu of the chart.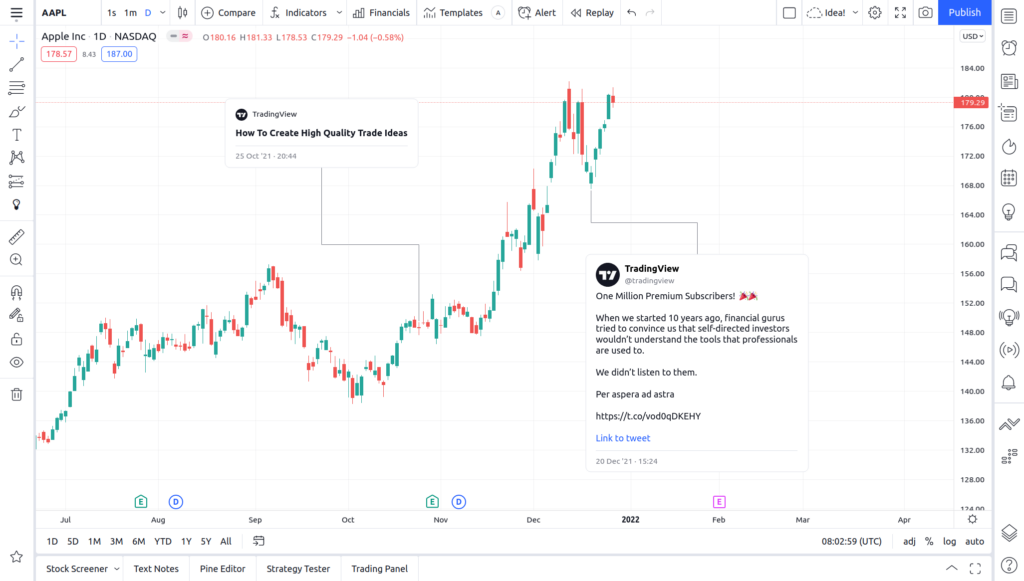 Please note that the idea is added at the position that corresponds to the time the idea was published. The link to the idea can be copied in the idea window after clicking the "Share" button.
You can also copy the link to the idea from the address bar of the browser by opening the idea:
From the main page of the site.
By clicking on an idea in the idea flow in the right panel.
By selecting a circle with an idea on the chart with the display of ideas turned on.
By clicking on the heading of the idea of the tool itself.
An idea on a chart is always attached to the date of its publication. The position of the idea card can be changed within the visible area of the chart. For this you need to pull the card in the direction you need.
Clicking on the title of an idea will open a full-fledged pop-up window with it.
The idea is very similar to any drawing object: it is linked to the symbol you added it to. An idea can be hidden or deleted, and its visual order in the object tree can be changed.