Following the Annual General Meeting of TP ICAP Group plc (LON:TCAP) in May 2021, the Remuneration Committee has been consulting with shareholders in relation to the Company's current remuneration policy and the Company's strategy.
Let's recall that, at the last AGM, the resolution concerning the report of the Remuneration Committee barely passed, getting the support of 56.6% of the votes. That is, 43.4% of the votes were cast against the proposal.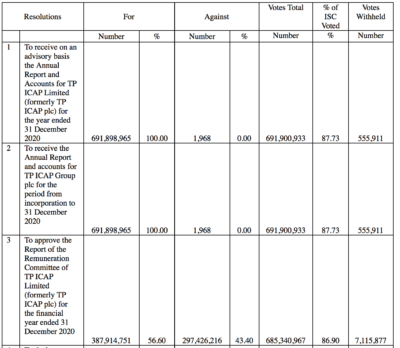 As a result of the consultations, TP ICAP today confirmed that it will now present a new remuneration policy for approval by shareholders at the Annual General Meeting in May 2022.
Also, in line with the current remuneration policy set out in TP ICAP's Annual Report published on 9 April 2019, the Company announces that on 12 November 2021 TP ICAP granted the following awards to the Executive Directors, PDMRs, over ordinary shares of the company under the rules of the TP ICAP Group plc Long-Term Incentive Plan (LTIP).
Nicolas Breteau – 756,733 shares;
Robin Stewart – 450,951 shares;
Philip Price – 458,158 shares;
The number of Company Shares that will vest on the Normal Vesting Date is subject to the Rules of the LTIP. The Normal Vesting Date is the nearest working day to the third anniversary of the date of grant, i.e. 12 November 2024. Any portion of an award made pursuant to the LTIP that does not meet the vesting conditions will lapse.