The following is a guest editorial courtesy of Andrew Lane, CEO of sentiment-based technology company Acuity Trading.
---
Is Amazon turning from being the unstoppable ecommerce juggernaut to a rapidly aging giant? What else could explain the stock underperforming its mega-cap tech peers through October? It has been a tough year for Amazon so far. It has been grappling with a series of issues, from ongoing supply chain disruptions to rising wage and shipping costs, need for further investment in expanding its fulfillment operations and several product quality gaps.
Disappointing Numbers
The third quarter results didn't help either. The company missed market expectations, with a whopping year-on-year decline of 50.5% in net profit. Also, free cash flow turned from positive $901 million in Q3 2020 to negative $8.4 billion in Q3 of 2021. Of course, the rise in capital investment did play a role in this, with Amazon spending $15.7 billion during the quarter. The stock fell 4% from the time the company announced its Q3 earnings till market close on October 28.
To add insult to injury for investors, the company released disappointing Q4 guidance, warning that it might barely break even during the fourth quarter. CEO Andy Jassy tried to explain all this away, saying that "when confronted with the choice between optimizing for short-term profits versus what's best for customers over the long term, we will choose the latter."
Jassy went on to say that all this expenditure was likely to continue as Amazon continues to make "extraordinary investments" across its business to "satisfy customer needs." "We've nearly doubled the size of our fulfillment network since the pandemic began," the CEO stated. As a result, the company now expects sales growth to further slow down in Q4, below the consensus forecasts.
The upshot of all this has been a drop in market sentiment for the stock, which has persisted into November, as can be seen from the Acuity Trading Dashboard.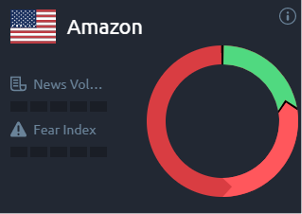 Making Microsoft, Google and Apple Great (Again)
Meanwhile, Microsoft and Alphabet reported their Q3 earnings well ahead of expectations, which sent the stock soaring. So much so that the rise in these two stocks helped the Nasdaq rise, while the S&P 500 and Dow Jones Industrial Average declined. This was Microsoft's 11th consecutive quarter of reporting better-than-expected earnings.
Apple, like Amazon, faced supply change issues and inflation concerns. In addition, the privacy changes made by the company meant that advertising would be restricted on Apple. Despite all this, the tech giant surpassed consensus expectations, demonstrating its resilience to economic uncertainties.
Microsoft, on the other hand, saw its market cap rising to $2.47 trillion on November 1, overtaking Apple's $2.46 trillion to become the most valuable company in the world. The two companies have been vying for the crown for quite some time now, with MSFT capturing the prize in 2010, 2018 and 2020 as well. Alphabet isn't too far behind either, just shy of the $2 trillion mark as of November 8. Amazon, at $1.79 trillion might be last in the race for now but not that far behind.
But if you look at market sentiment, it's a very different story. Alphabet is the clear winner with a surprisingly positive sentiment, as can be seen on the Acuity Trading Dashboard. What is even more surprising is the declining positive sentiment towards Microsoft, soon after it overtook Apple in valuation.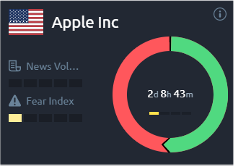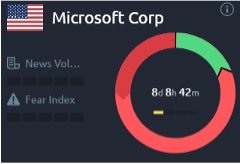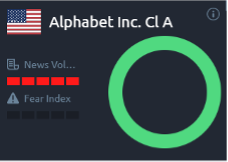 Is the Amazon Story Over?
Absolutely not. What stands in good stead for the company is that it hasn't put all its eggs into one basket. Apart from being an eCommerce giant, it also boasts an industry-leading cloud computing service, AWS. Amazon is also diversifying into the brick-and-mortar discount retail space with taking on the likes of Walmart with its very first 30,000 square foot, large-format stores expected to be launched in California and Ohio.
The company recently also announced its purchase of a 20% stake in electric vehicle manufacturer, Rivian. With the renewed emphasis on reducing greenhouse emissions, the EV space is already heating up. Tesla crossing the $1 trillion valuation mark in October being the proof of that pudding. Rivian is a promising player in this space.
Amazon has also been introducing various electronic gadgets, such as the smart display, Echo Smart 15, and its first robot, Astro. We believe that there are plenty of growth opportunities for the company also because of its Amazon Care telehealth program, which could well turn into a healthcare service that fuels growth. The company is also foraying into the huge prescription drugs market, taking most of us by surprise when it launched Amazon Pharmacy in late 2020.
We believe that Amazon might be down for now but not out. With its fingers in so many promising pies, the stock will bounce back and make MAGA great again.