Leading FX and CFDs brokerage group Plus500 (LON:PLUS) issued a half year trading update, indicating that its business slowed significantly in Q2-2021 in terms of both revenues and new client acquisitions in that the company called a "stable market environment".
Plus500 reported that Group revenue in H1 2021 was $346.2m, (H1 2020: $564.2m, H1 2019: $148.0m), including $143.0m in Q2 2021 (Q2 2020: $247.6m, Q2 2019: $94.1m). The company added that Customer Income –  revenue from customer spreads and overnight charges – reached $379.2m in H1 2021 (H1 2020: $556.9m, H1 2019: $175.0m), including $157.7m in Q2 2021 (Q2 2020: $323.4m, Q2 2019: $93.0m).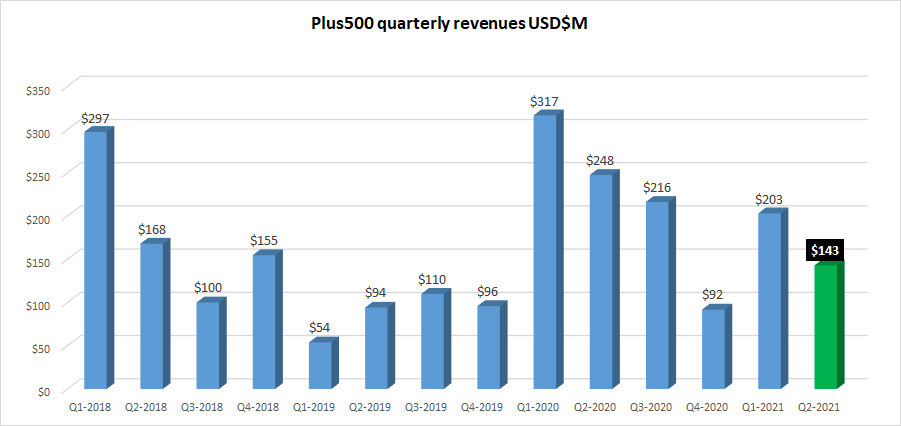 The Company said that its positive momentum during H1 2021 was evidenced by another very strong period of customer acquisition, although as noted above that slowed in Q2. In addition, there was a continued high level of activity within the platform driven by an Active Customer base which has grown significantly over the last few years. 136,980 New Customers were onboarded during H1 2021 (H1 2020: 198,176, H1 2019: 47,540), including 47,574 New Customers in Q2 2021 (Q2 2020: 115,225, Q2 2019: 26,234), reflecting continued interest in Plus500's trading offering and being well ahead of the H2 2020 comparative period.
The Company's financial position remains robust, and cash balances remain healthy, driven by the strong EBITDA performance and continued high cash generation during the period. (Although no specific guidance on EBITDA/profit numbers were given).
Over the last 12 months, the Company said that it has made significant progress in delivering against its new vision to evolve into a global multi-asset Fintech Group over time, supported in particular by further investment in Plus500's market-leading proprietary technology platform. This will ensure that Plus500 can continue to successfully retain its customers, by offering them a wide range of products, and also to support the Company as it seeks to attract new customers and enter new geographies.
A major milestone in executing against this vision was achieved earlier this month with the launch of 'Plus500 Invest', the Company's new share dealing platform, in selected geographies. Plus500 will continue rolling out 'Plus500 Invest' in further geographies over the coming months, to ensure the further expansion of the Group's product range and geographic footprint.
Furthermore, the acquisition of Cunningham Commodities, a regulated Futures Commission Merchant, and Cunningham Trading Systems, a technology trading platform provider was announced on 21 April 2021. This acquisition, expected to complete in the coming weeks, represents a major growth opportunity for Plus500, allowing the Company to instantly expand its geographic footprint and product offering in the significantly growing, but under-penetrated, US retail trading market in futures and options on futures.
As far as outlook goes, Plus500 said that its strong performance in H1 2021 was delivered despite regulatory changes implemented in Australia during the period, the impact of which is as expected to date and will continue to be assessed by the Board of Directors of the Company.
The Board remains confident about the Company's performance during the remainder of FY 2021 and beyond.  Plus500's market-leading proprietary technology platform, flexible and scalable business model and robust financial position leave the Group well positioned to deliver a strong and consistent performance over the medium and long term.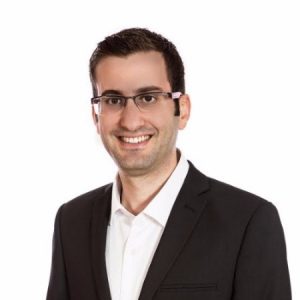 David Zruia, Chief Executive Officer, commented:
"Plus500's excellent performance so far in 2021 was driven by the strength and agility of our technology and its ability to respond rapidly to market developments, news events and customer requirements.

"We have multiple opportunities from which to access future growth through both continued organic investment and targeted acquisitions, by expanding our CFD offering, launching new trading products, introducing new financial products and deepening engagement with our customers.

"Our long-term ambition is to enable simplified, universal access to financial markets as we continue to transition into a global multi-asset Fintech Group. We are thrilled to be already making significant progress in delivering this vision, with the recent launch of Plus500 Invest and the acquisition of Cunningham and CTS, both of which ensure that Plus500 can offer customers a diversified portfolio of products.

"Supported by our continued success in accessing such growth opportunities in the future, through further investment in organic growth and additional bolt-on acquisitions to diversify our product portfolio and geographic mix, we aim to deliver growth and consistent levels of cash generation over the medium to long term."