Robinhood Markets, Inc is facing another lawsuit – this time for allegedly misleading claims in its IPO registration statement.
On December 17, 2021, Philip Golubowski filed a complaint in the California Northern District Court. The complaint, seen by FX News Group, targets Robinhood, its senior management (including Vlad Tenev), as well as the underwriters of Robinhood's IPO.
The plaintiff purchased shares of Robinhood's common stock that were issued pursuant and traceable to the Registration Statement and Offering, and claims that he was damaged thereby.
He brings this federal class action under §§11, 12, and 15 of the Securities Act of 1933 ("Securities Act") against (i) Robinhood, (ii) certain of the Company's senior executives and directors who signed the Registration Statement, effective July 28, 2021, issued in connection with the Company's initial public offering, and (iii) the underwriters of the Offering.
The plaintiff alleges that the Registration Statement and Prospectus (filed with the SEC on July 1, 2021 and July 30, 2021, respectively), including all amendments thereto, contained materially incorrect or misleading statements and/or omitted material information that was required by law to be disclosed. The plaintiff claims that the defendants are each strictly liable for such misstatements and omissions therefrom (subject only to their ability to establish a "due diligence" affirmative defense) and as so liable in their capacities as signers of the Registration Statement and/or as an issuer, statutory seller, and/or offeror of the shares sold pursuant to the Offering.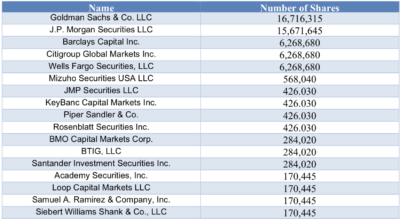 List of underwriter defendants in this lawsuit. Source: California Northern District Court.