TorOption is not a secure Forex broker since it does not hold a license from any worldwide serious Forex authority. Meaning the broker is suspected of being a fraud company since it was not checked for its compliance before establishment, never monitored in terms of its safety and simply may operate the business in any way it wishes.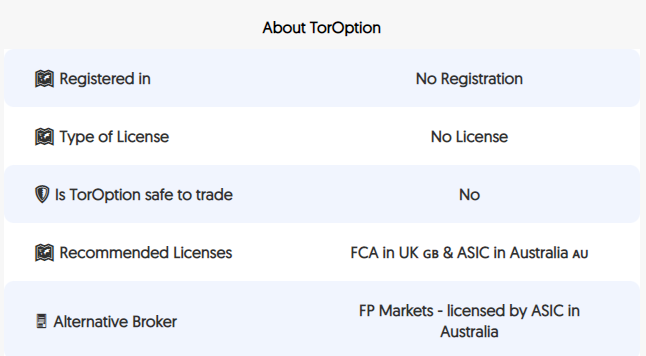 TorOption is a trading name used by the company with its registered address in Scotland named Smart Choice Zone LP. The broker claims its professional approach and management of trading experience in CFDs, Commodities, Indices and Commodities along with the advanced security features. However, the company operates with no license or supervision from the respected industry authorities, therefore the claims on security and trustability are not proved.

Since the broker offers also trading of binary options (Find Binary Options Regulated Brokers ) or instruments with maturity less than one hour that is a highly risky investment, which is in fact not permitted to distribute in many jurisdictions with a purpose to protect clients.

Furthermore, there are several European industry authorities, which included TorOption to its warning or blacklists, as the company targets clients in respected jurisdictions without its allowance to do so. The warnings include Belgium FSMA, Spanish CNMV and Italian CONSOB while advising not to engage with the company offering by any mean.

"The Financial Services and Markets Authority (FSMA) warns the public against the activities of TorOption, a company that offers binary options without complying with Belgian financial legislation. The FSMA thus strongly advises against responding to any offer of financial service made by TorOption and against transferring money to any account number it might mention."

Conclusion

Overall, we do not advise to trade with TorOptions, as the warnings from so many authorities and company claims about its trust seem to be a trap. Also, there are numerous complaints and negative response from the clients who traded with TorOption. For that reason it is recommended to chose among the Regulated brokers that are constantly overseen it terms of their secure trading environment.