BGC Partners, Inc. (NASDAQ:BGCP), a leading global brokerage and financial technology company, today reaffirmed its previously stated outlook ranges for revenue and pre-tax Adjusted Earnings for the third quarter of 2021.
Revenues are forecast to be in the range of $465 – $515 million, whereas pre-tax adjusted earnings are set to range from $78 million to $98 million.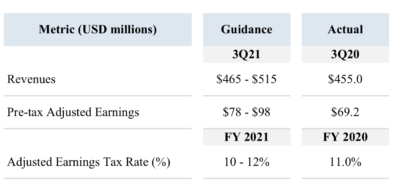 BGC reported total revenue of $512.5 million in the second quarter of 2021, 1.3% lower than a year ago. Revenue performance across the business was as follows:
May and June revenues recovered after April was 10.7% lower.
Voice / Hybrid, including other revenue, generated revenue of $361.1 million, down 8.5% due to continued conversion of Voice / Hybrid to Fenics revenue.
Fenics reported record second quarter net revenue of $97.0 million, an improvement of 23.5%, with a pre-tax Adjusted Earnings margin of 29.9% across its Fenics Markets business.
Insurance brokerage generated record revenue of $54.3 million, up 18.6%.