We reported back in July 2020 that Vantage FX CMO David Bily was leading a new project for the Australia based Retail FX group, spinning off a new offshore brand called Moneta Markets. Well nearly a year and a half has passed since then, and the "project" has grown into a viable brokerage in its own right, leading David Bily to take leave of his senior management duties at Vantage FX, and now focus full-time as CEO of Moneta.
We thought that it would now be a good time to catch up with David, see how things are indeed going at Moneta, and what the future might hold.
---
FNG: Hi David. Having been a part of Vantage FX over the past 10+ years, you would have witnessed its growth first-hand. How has it evolved throughout your time with the company?
David: It hardly feels like it was ten years ago, but when I started back in 2011 hustling on the phones as part of the sales desk, Vantage FX was just starting to find its feet as a small MT4 broker with no more than a dozen staff total in a small Sydney office.
Over the past decade, I've been honoured to not only see it grow to where it is today, but to have been part of a great team who have done our best to contribute to that growth. Since its inception in 2009 Vantage FX has exploded to become one of the biggest MT4 and MT5 brokers in the world, with over 500 staff and several offices world-wide. It's been quite amazing to see the company's expansion at such a rapid rate, year on year.
The industry itself has completely transformed over the duration of my ten-year tenure with Vantage, specifically when it comes to the rapid evolution of digital technologies, and the company has done a great job of evolving with this, emerging as one of the technological leaders amongst the competition. And, having weathered the numerous ongoing obstacles and regulatory changes that the Forex industry over time has seen Vantage firmly plant its feet as one of the most trusted Forex brokers in the industry, and it is this reputation that sees it continue to grow. It's shown resilience and leadership in a very competitive sector to become one of the true current market leaders, and I'm lucky to have been a part of its' story to date.
FNG: What spurred your decision to move on from Vantage's head of Marketing and Partnerships?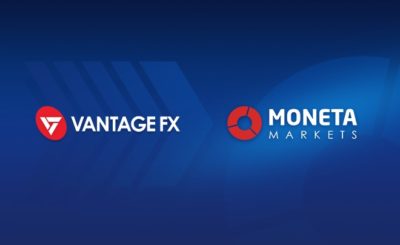 David: While I'm very blessed and proud to have been a part of the Vantage FX growth story, for some time now I have wanted to build something of my own. So, with the support of the Vantage stakeholders I embarked on the journey to start my own brokerage, Moneta Markets. And, while Moneta will be under the Vantage Group of brands, it is its own company which is an exciting opportunity for me to take ownership of.
I have always been devoted to Vantage's growth, and over the past 18 months I have continued alongside laying the foundations for Moneta Markets to start its growth journey, but now Moneta is in a position that commands my full attention in order to fulfil its potential. Vantage has been focused on assembling a team of marketing professionals of late, and after the past few months of working closely with the new team, I'm confident that Vantage's marketing and partnership departments are being left in very capable hands to continue on their next chapter as their expansion continues. And now, I am able to dedicate my full attention to growing Moneta into a major player in the industry, and dare I say it, a competitor to Vantage.
FNG: What does 2022 hold for you and Moneta Markets?
Having laid a solid foundation, we are perfectly poised to really put the foot down and accelerate growth. For the month of October alone, we hit a major milestone of over 4200 new trading accounts, and so far in the first week of November we've seen close to 1500 new registrations, which puts us on track for around 6000 new accounts this month. This increased flow also transfers into trading volume, deposits, and other important metrics that indicate that we are starting to build incredible momentum, hot on the heels of our competitors.
To ensure this momentum is maintained we will be focused on expanding into new regions, rolling out some great new features of the WebTrader platform, as well as launching our new IB platform. And, of course, continuing to optimise our products wherever possible and passing those benefits on to our clients in the way of even tighter spreads and new trading instruments. Throughout my time at Vantage I took some incredible learnings along the way, and I'm focused on implementing what I've learned to build Moneta into a broker that disrupts the industry and sets a new benchmark for our competitors.
FNG: That's quite an ambitious statement. What are the key drivers that set Moneta apart from the competition?
David: It is ambitious, but I saw it happen first hand with Vantage and was lucky to be involved with a talented and hungry group of people that made it possible. Taking everything I've learned from that, and having the support of a great team makes me certain that it's something that Moneta can, and will achieve.
Broadly speaking, the industry has become stale and is ripe for disruption, and I'm in the perfect position to shake things up. At the helm of Moneta Markets I can cut straight through the red tape – there is no clunky bureaucratic process like with other bigger brokers, so our ability to be agile is an advantage at every level, from introducing new technologies, optimising our product range, trading infrastructure, even through to recruitment.
FNG: It sounds like exciting times ahead! Are there any final words you would like to add?
David: 2022 and beyond is going to be very exciting for both Moneta and Vantage FX. Both brands are in a key transitional period. I had an unforgettable 10 years with the Vantage team and I wish them the very best going forward. I'll miss being a part of their growth, but I'm very excited about switching my focus 100% to Moneta's future and continuing to grow on what we have built to date.
One key learning I took from my time at Vantage is that success is a team effort, and when you are surrounded by good people who work hard and contribute positively to company culture it makes a world of difference, which is why I am now on the hunt for the best talent in the industry. So, if you're out there and have relevant industry experience, regardless of the role, or if you're an affiliate or IB, I want to hear from you. Get in touch with me anytime for a chat and be a part of something great.