LME today published a notice regarding daily upper and lower price limits in either direction for outright Contracts in all base metals. The notice sets out firm daily price limits for Nickel outrights and reconfirms the daily price limits that will be applied to all other base metal outrights, and sets out the dates from which these daily price limits will apply.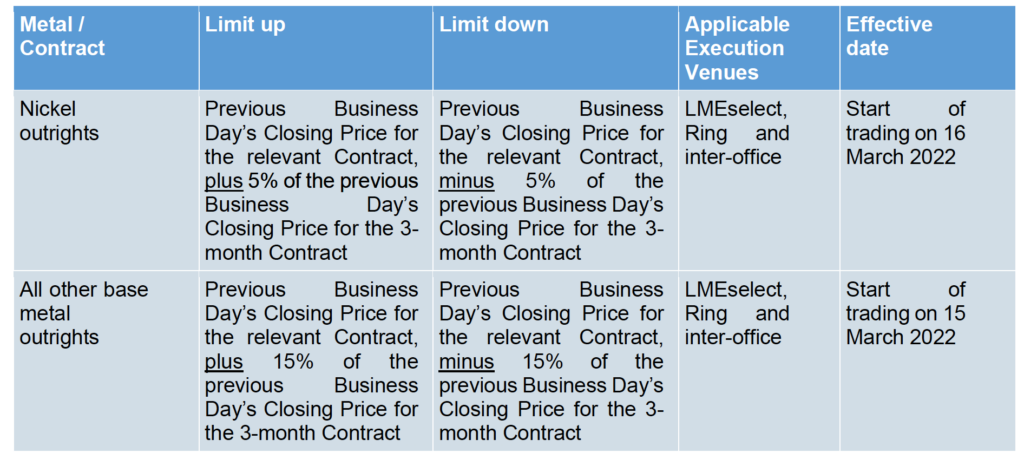 For the avoidance of doubt, hitting any price limit will not automatically result in the suspension of trading. As such it is possible for the market to trade to a limit, then away from that limit as a result of changing market conditions. As a result of this, it is possible that daily price limits (both on the up- and down- side) are hit multiple times within a Business Day. However, this will not result in any intra-day changes to these daily price limits.
The LME says it is committed to monitoring its markets with a view to maintaining a fair and orderly market and may issue further guidance on daily price limits in due course and may adjust the daily price limits further, at its discretion.
In relation to Nickel, and in the light of the impending resumption of trading, the LME intends to review the appropriateness of the Nickel daily price limits at the end of trading on 16 March and may, subject to prevalent market conditions, adjust these limits. Subject to ongoing monitoring, the LME's expectation is that Nickel price limits will reach the 15% level employed for other base metals, as the market situation normalises.
Trades on Execution Venues other than LMEselect will be prohibited through manual controls rather than through systematic means, from being Executed outside the daily price limit.